"When you are tempted to give up, your breakthrough is probably just around the corner"  – Joyce Meyer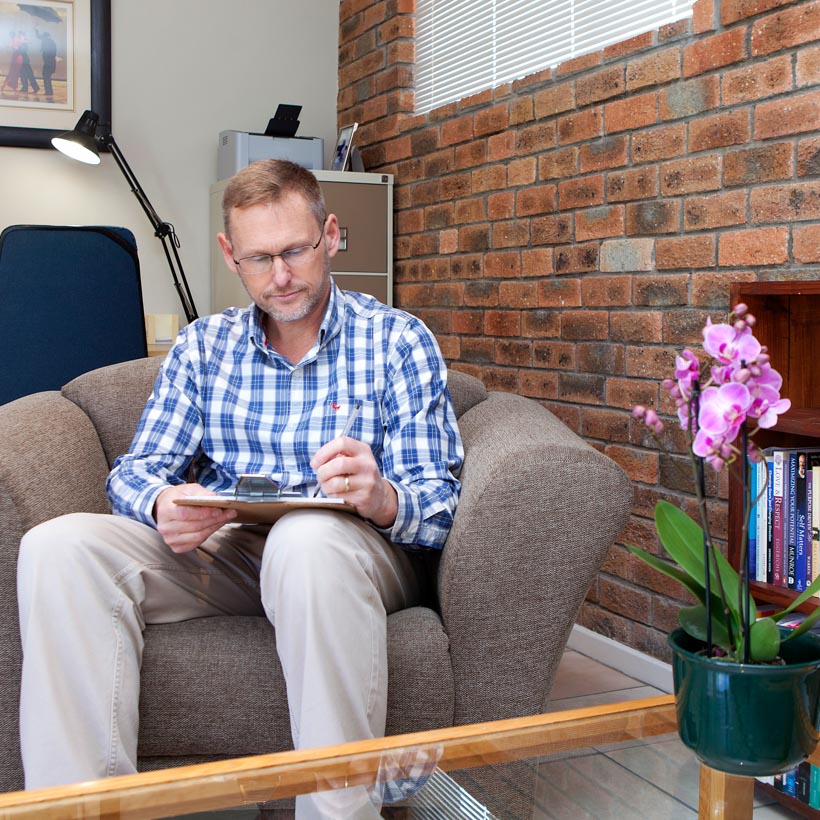 Welcome to my practice
Stephen Penney, Counselling Psychologist, M.Soc.Sci (UKZN),
Practice no. 0722758, HPCSA reg. no. PS 0137456
"Self-examination is the key to insight, which is the key to wisdom" – M. Scott Peck
Education
Stephen completed his master's degree in Counselling Psychology at the University of KwaZulu-Natal. His thesis involved researching the factors affecting adolescent adjustment to divorce.
Experience
Stephen currently runs his own psychology private practice. Prior to that, he worked as an associate at Robin Scott & Associates. He completed his internship at the Kenmont School and worked as a student psychologist at the university Student Support Services and Child and Family Centre.
Approach
Stephen provides psychological services for children, adolescents and adults. His main therapeutic approaches are Cognitive Behavioural Therapy, Schema Therapy, Person-Centered Therapy and Attachment-Based Therapy. Psychometric assessments are also offered.
Areas of speciality
Stephen is interested in helping clients develop optimally and adjust to life challenges. This includes assistance with bipolar, depression, anxiety and obsessive-compulsive difficulties; trauma and stressor related issues including adjustment difficulties; self-discovery and self-esteem assistance including personality issues; behavioural issues; relationship issues (co-dependency, families, couples) and emotional difficulties. Psychometric assessments include scholastic, cognitive, career, emotion and personality.
 Personal information
Stephen's interpersonal strengths include insight, empathy and encouragement. He has a high quality work ethic and is reliable, motivated and committed. He is a Christian psychologist who attempts to integrate his psychology practice and Christian faith.
Affiliations
Member Psychological Society of South Africa (PsySSA)

Member South African Association of Counselling Psychology (SAACP)

Member International Society of Schema Therapy (ISST)

Registered with the Health Professions Council of South Africa (HPCSA) as a Counselling Psychologist.

Registered with the Board of Healthcare Funders (BHF) as a Psychologist.

Affiliated with the Swim for Change organisation which raises awareness about the importance of mental health in schools.
Contact Me
Ask a question or book an appointment below.
064 593 6137
(contact for personal assistant)
info@stephenpenneypsychology.co.za
11 Docav Road, Meadowridge, Cape Town, 7806
"Don't let your happiness depend on something you may lose" - C.S. Lewis